Route 66 motorbike tours by Eagle Rider
Known as the "Main Street of America", or "Mother Road", Route 66 is over 2400 miles long and stretches from Chicago to Los Angeles, crossing three time zones and eight States: Illinois, Missouri, Oklahoma, Texas, New Mexico, Arizona, Nevada and California.
Route 66 is a truly iconic road that every adventurous motorbike rider should venture across to enjoy and experience a great slice of truly amazing USA.
Towering skyscrapers in Chicago, the magical exuberance of Sante Fe, breathtaking Grand Canyon, dazzling Las Vegas and the surf and sand at Santa Monica.
All there and waiting for you and no better way than riding a motorbike.
15-17 day tour of Route 66 with option to extend
Tours from May to October with many departures monthly
Tours are available fully guided, or self-guided and you can have a fully customised route taking you to the places and sights you have heard and dream't about.
What better way is there to ride the great highways and back roads than with a group of fellow riders from all over the world?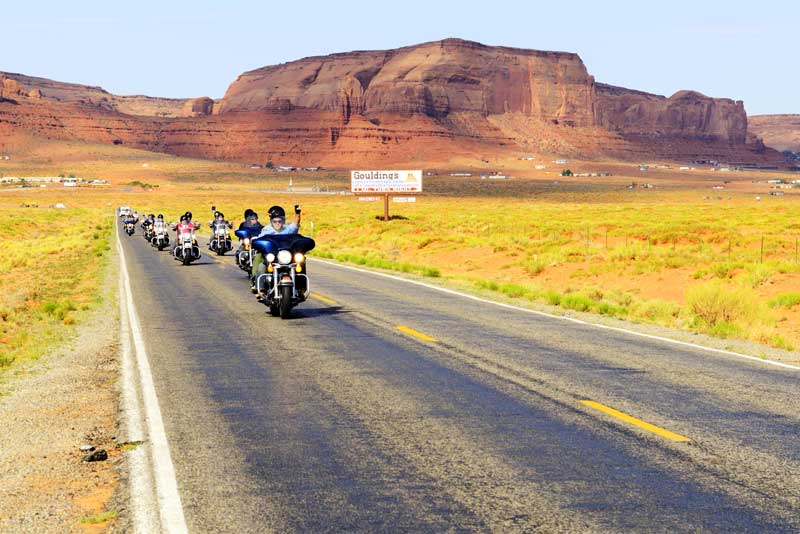 Fully guided tours
Included:
Fully maintained bike rental
Support van with a spare bike
Professional tour guide to accompany you
Professionally designed route
All hotel accommodations arranged
Complimentary Eagle Rider riding jacket.
Self-guided tours
Ideal for the folk who want to enjoy a riding holiday without the hassle of planning and booking and be free to stop and go when you choose. Routes have been planned and will have you riding along the most scenic and attractive roads in the area.
Included:
Perfectly maintained bike rental
Professionally designed route
Your hotel accommodations.
Customised tours
Give your thoughts and input to a professional guide you will put together a ride bringing together the places and sights you have always wanted to see and experience. Choose the number of days you want to be riding, and where you start and finish your ride. Take home memories of an unforgettable holiday that will last for ever.
Included:
Your choice of destinations and overnight stops
A perfectly maintained bike rental
Hotel accommodations organised, as required.