"This will be your first step to the ride of your life.
Step 1. Google,"Motorbike rides USA". Click on KiwiKen. This will be your first step to the ride of your life …
… You will find a great overview of what to expect. Then call Ken with your queries and you'll find a casual but professional response that will give you confidence to join the party.
Our 48 day adventure was a amazing experience,"Once in a lifetime" that's what we thought, but "No way," we will be doing it again."
Our group of about 50 like minded ladies and gentlemen "bikies" enjoyed thousands of miles of some of the most amazing roads and sights in the world.
Jan and Ken's tours are from years and years of trips that have been fined tuned.The routes and highlights would take you years to find without their experience.
Full itinerary with suggestions of breaks and scenic stopovers to the night's accommodation are all provided. You can ride at your own pace and leisure or team up with a group for the day and enjoy it together.
Happy hour from the back of the van that carries the bags and there for breakdowns is a great way to end the day with a cold beer.
Whether you hire or take your own bike, Ken has it organized with a minimum of fuss. Maybe buy a bike when you get there and have shipped home.
All this comes at extremely good value and a hell of a lot of fun.
Go on, have a look."
Wayne and Sandra Walker, Howick
Best of the West 2015
"Carolyn and I would just like to say thanks for a fantastic trip!
We had an absolute ball and saw some things that we certainly wouldn't have if you weren't organising the trip. As far as we were concerned everything went much better than we even hoped.
We know that heaps of things got done without any thanks or recognition and so once again, thanks for all your efforts to ensure a hassle free and wonderful experience. I think that your trip had the right blend of hand held direction and DIY driving to make it very memorable. If you would like to use these words as a testimonial feel free."
Warwick & Carolyn Eves, Lower Hutt
Best of the West 2008
Best of the West 2015
"Memories of the great six weeks riding are still crystal clear – photos are a reminder but memories give so much more –
– the sounds of laughter, the feeling of numbness riding through the Rockies, the dripping of sweat riding into Laughlin, Jerome's quaint mile high village (!!! of what I can remember!!!), the taste of Sizzlers chicken wings, seeing the expanse of the Grand Canyon and the sharpness of the mountains in Banff and the awe of riding into Moab … and of course jaw-dropping Sturgis, the list goes on and on – memories are so precious made so memorable by experiencing such a wonderful six weeks of riding and sharing with an incredible bunch of fellow New Zealanders … Ride and have fun!"
Linda and Graeme Burling, Himitangi
Best of the West 2011
Best of the East 2014
"After our first 'trip of a lifetime' with Ken and Jan the adventure seed was well planted – returning again to ride a further two tours; Alaska 2012 and the East Coast 2014. A total of 50000 ks I believe is a testament to Kiwi Ken's Motorcycle Tours.
We rode 14000 ft up Mt Evens , 2000 ft higher than NZ's highest mountain- Mt Cook-Aoraki.
Experienced the Mega city of New York to the quite Alaskan town of Hyder, sweating in the 47 C heat of Laughlin but remember fondly the Alaskan summer of Skagway.
Total wonderment at Grand Canyon, Bryce, Zion, Capitol Reef, Arches and total awe at Niagara Falls.
Through the home of the mighty buffalo and the Grand Prismatic springs in Yellowstone but equally enjoyed the cobblestoned roads and history of Savannah Georgia.
The Strip in Vegas at 6.00 am to beat the heat of our day's ride through Death Valley – to experience a small outback town called Hardscratch where we met the real American gun packing folks.
The home of Harley in Milwaukee where we were privy to see their private archives.
Thank You Ken and God bless America, get out there, live it, ride it and enjoy it."
Pete and Kathy Robertson, Timaru
Best of the West 2007
North to Alaska 2012
Best of the East 2014
Euro Alps          2019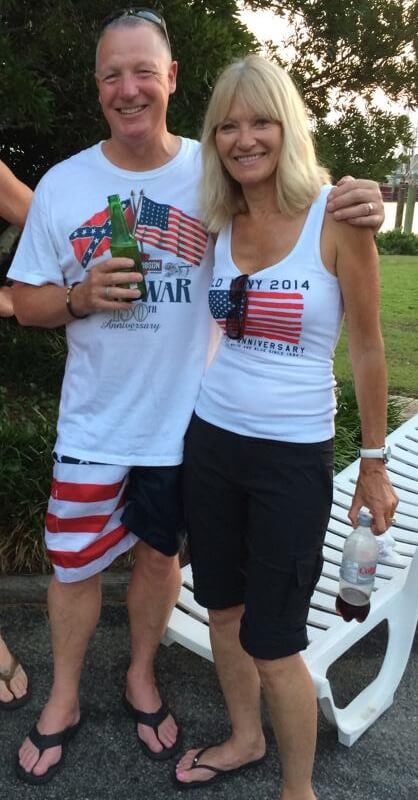 "We have both been riding and actively involved in the Harley Family since 2008. Michele my wife and I both really enjoy touring and adventuring with a like minded group. It is fun, social and a very relaxing alternative to our day jobs.
A group formed in the Central Districts met with Ken and Jan in 2010 to consider a USA trip visiting the Sturgis Rally. With a little persuasion we became part of a tour with 20 other Kiwi riders. Touring the West Coast, up into Canada, South to Sturgis and ,through western Rockies to New Mexico and back to LA was the highlight of our riding experiences to date and have still not ridden any thing better.
Jan and Ken have been organising trips for many years and are true pros at providing a good time at good value. They know the best routes, interesting small towns and fantastic roads to ride like Highway to the Sun and Mt Evens, the highest road in the States at 14500 feet.
The ethos of Ken is always relaxed and calm even when the travel arrangements are challenging or people are a bit grumpy. Tours are definitely not "tag along", as riders each day take full responsibility for their routes, however fully supported by a supplied comprehensive map book with directions and tips for the day.
Overall we would recommend to anyone who wants a once in a lifetime, fun and carefree bike trip to engage with Ken and Jan. We were so satisfied with our first trip we repeated the experience in 2014 and rode 6 weeks on the East Coast up to Quebec and south to Key West returning via the coastal route via Savannah and Beaufort North Carolina.
My summary, If you are thinking about it – do it. You will never regret the ride and the experience of becoming part of Ken and Jan's extended family."
John and Michelle Signal, Fielding
Best of the West and Sturgis 2011
Best of the East 2014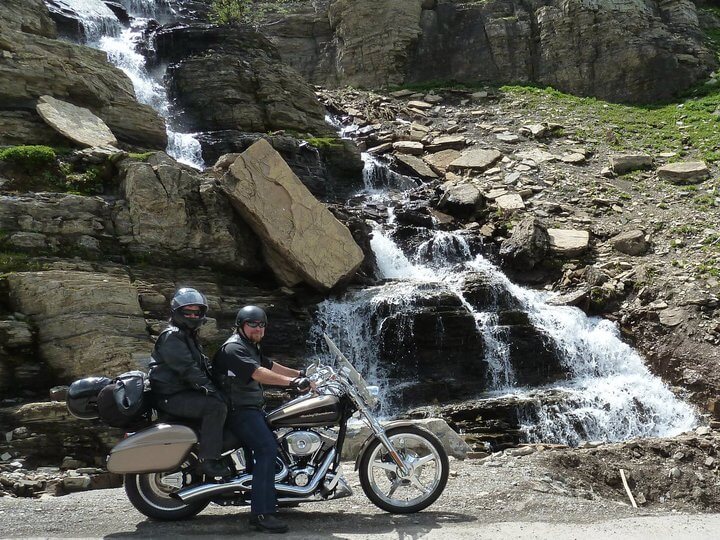 "The trip for us was amazing to say the least. The layout of the trip IE Roads Motels, Hotels, Restaurants were also outstanding.
The group as a whole were a pleasure to be around and to have spent our trip with. The trip was as good if not better than we expected it to be. A big thank you to you Ken for the work that you put into it. I know that its not easy sorting these things out, and it's bloody hard to keep everyone happy (impossible really). We have not stopped talking about it since we have been home and we are already talking about going back in 2014. If you were to change anything, maybe a couple more 2 nighters, other than that I would not change a thing."
Darryl & Mel, Napier
Best of the West 2010
"We have still not fully landed on our feet since arriving home and still buzz when talking about our trip to whomever.
Thank you for the "holiday of a lifetime" which I don't believe we experienced without the effort and planning you put into it."
Marama & Elvin, Wellington
Best of the West 2010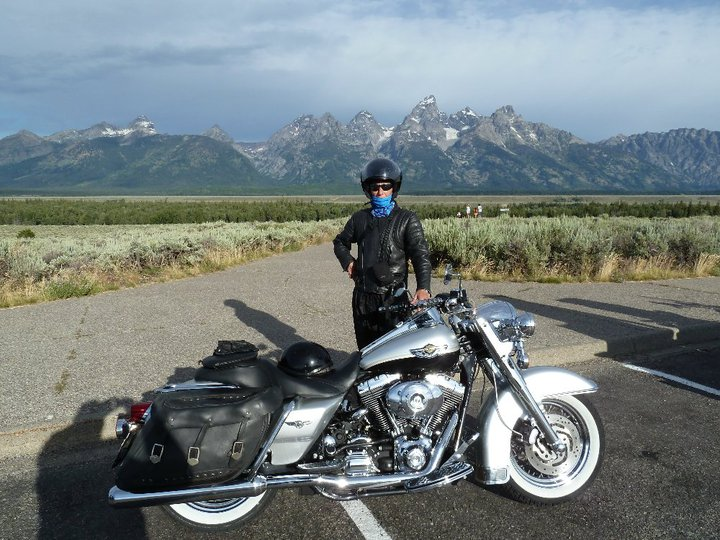 "Outstanding trip and scenery just got better and better every day. Ken's experience of riding in the States shows as we rode some really obscure roads and stopped and stayed in some iconic towns.
The accommodation was top notch and day to day well organised but not over organised so you could still be individual.
Ken and Jan are great hosts and we would love to do it again. Highly recommended."
Janene and Dave Meikle, Picton
Best of the West 2015
After clicking on a post on Kiwibiker and being offered the opportunity to ride the United States in 2011, the seed was sown. I found myself wondering about it over the next couple of days, and then arguing that there would be no better time to explore the USA for 6 weeks. Young, single, no dependents. Why not?
The thoughts quickly turned to action, confirming to Ken O'Leary I would join in. Travelling half way around the world to explore a foreign country is never quite as easy as booking a plane ticket, but sending your own bike as well to explore only makes things harder. However, you wouldn't believe the contrast that was the reality of travelling with Ken. I signed paperwork, asked him how much he needed and when, and when and where I needed to be to start the trip. It really was that hard, leaving all the organisation to Ken.
He provided a book complete with each day's route, suggestions on where to eat and what to do and information on the pre-arranged overnight stops. If you wanted more or less mileage you could ask and get some options and non-travelling days were built in for rest or sight-seeing. Have you ever visited a country only to return home and find something you should have done if you had known? You would be hard pressed to find an easier way to ride the best roads and see the best sights in a strange country than follow a couple that have been doing it for a couple of decades!
Mountain passes in excess of 10,000 feet to rivers, lakes, forests, so many National Parks you can't name them all, that wasn't even extreme. We had some cloudy weather up the coast into Canada, getting as low 8 degrees and then rode through Death Valley where temperatures topped 50 degrees. I wrote a blog as we travelled, to try to remember it all and ran out of adjectives to keep describing all the scenery.
The trip was absolutely fantastic and you know you're onto a winner when even locals are jealous of what you are up to. Usually described as a trip of a lifetime, there was one downside. It's clear more trips will be required to see more of the sights that were missed! You miss the NZ winter (While NZ cities had snow dumps we had 30+ degrees) and spend most of 6+ weeks on your bike. Could it get any better?"
Alan Denness, Auckland
Best of the West 2011
"I want to say how much we enjoyed our trip and spending time with you two and our fellow travellers. You organised a great holiday and we will remember it forever.
Hopefully we will come again when you do one heading to the southern states and maybe taking in New York etc. If you guys ever have time on your side here in sunny Marlborough, we would love to host you at our house."
Arnold & Chile, Blenheim
Best of the West 2011
Touring Ken O'Leary Style – the only way to go!
Just imagine endless days of riding on roads that have a great mix of twisties, sweepers and not a rain cloud in sight! That was the experience we had this year when we toured the mid west of USA and Canada with Ken and Jan O'Leary's Tour. Everything was so well organised that all you had to do was pay up and get yourself there. The tour had a group of like minded biker enthusiasts; riding a variety of bikes from Harley's to BMW's. A good time was had by all. We travelled on roads that only someone who had been there before would have found. The trip gave you a bit of everything from diverse scenery & animal life complete with Wild West towns and National Parks; featuring the red rocks of Utah, the Grand Canyon, Canadian glaciers and then the tourist hotspots of entertainment like Sturgis Bike Week and Las Vegas. We cannot wait to do it all again! We thoroughly recommend this Tour…………. JUST DO IT!"
Steve and Jackie Bolton, Albany
Best of the West 2009
North to Alaska 2012
The Best of the East and across to Los Angeles 2014
The Euro Alps 2019
"My partner and I have just returned to NZ after riding through USA, Canada and Alaska. We flew to Los Angeles collected our bikes then rode North to begin the trip of a lifetime.
Riding across the Golden Gate Bridge, following the ruggedly beautiful Oregon coast, cruising the Alaskan waterways, riding through the Canadian Rockies with numerous glaciers not to mention the bears, moose,elk and bald eagles sighted.
All this then more from the many US national Parks, Bryce, Zion, Grand Canyon and Death Valley. Sturgis with the sounds of 400,000 Harleys, Mt Rushmore and Crazy Horse carved into the mountain side.
And I haven't even begun on Utah where you see ancient red rock formations, Nevada's Vegas …. larger than Elvis.USA bike tours Sturgis
Hoover Dam, a masterpiece built from enough concrete to form a footpath round the globe. Los Angeles with her iconic attractions- Hollywood, Disneyland and Universal Studios.
I can not recommend this tour enough, Ken and Jan showed us the best of America's west. They shared their favourite locations, chose fabulous accommodation and included a support van.
Thanks to Jan and Ken we are now totally hooked on America and already planning a return."
Alan and Marie, Karitane
North to Alaska 2012
Best of the East then across to Los Angeles. 2014
Best of the West and Sturgis 2015
The bikes, the riding, the scenery, accommodation and the people we rode with. It was great being able to be part of a group or do your own thing. A couple of times I got frustrated at getting lost, but we always managed to find our accommodation for the night. I did and saw things that blew me away. It exceeded all of our expectations.
So most importantly Ken, I thank you for the opportunity to go on this trip, sharing your experiences and knowledge with us made for a unforgettable holiday.
Darryl and Raewyn Cullen
Whangarei
P.S I would have no hesitation in recommending you to others if they are thinking of doing a trip."
Best of the West 2011
"Lou and I had a great trip with you Ken. We enjoyed every day and very pleased we went. I have recommended your trip to lots of people down here.
Kiwi Ken's Sturgis tours, feedbackIt is certainly better having the freedom to come and go when you're ready rather than travelling in a organised group being told what to do all the time.
There has been a lot of time and local knowledge gone into the tour itself seeing as much as possible along the way and this was appreciated by us, as we would never got there and seen as much under our own steam.
Once again thanks for a very enjoyable two months on the road."
Dave and Louretta Robertson, Cromwell
North to Alaska 2012